It's Memorial Day – we salute our veterans and active military because without them we wouldn't live the life we live.  It's been a quiet day for the most part and I've been using it to catch up around the house and office.  While clearing emails I noticed one today with the subject Did You See Them In Their Bathing Suit? OMG! Yes, it's swimsuit season! Got a chuckle out of me because what better way to grab someone's attention than with a scandalous title right?  After I stopped laughing at the subject line, I read the email and one of the sentences resonated with me – it is not too late to feel comfortable wearing a swimsuit this year.  And even though it is Memorial Day it truly is not too late.
For many of us, our lack of confidence and self-esteem is really what stops us from enjoying many things in life including lazy days at the beach or pool in a swimsuit. I don't know about you, but I will never let either interfere in what I enjoy in life and that is 100% attributable to exercise. Exercise not only benefits our bodies, it benefits our mind, moods, energy levels and yes, our confidence.
My body craves exercise and when I don't make the time to get 30 minutes in each day, I start to feel sluggish.  Feeling sluggish can easily lead to many other things including the tendency to eat what we wouldn't normally eat along with spending long hours sitting on the couch watching TV.  After a few days, you will find yourself sitting more and more because it quickly becomes a habit – an unhealthy habit but a habit nonetheless.
If you are exercising – good for you!  Keep it up because you already know how much better you feel.  If you are not exercising or not exercising consistently, today is the day to start and push through for 21 days – that is about how long it takes to create new, healthier habits. Need motivation?  Maybe what has worked for me for many years can help you too.  I continually register for events each month including 5K's, 10K's, half-marathons and triathlons.  Just seeing these events on my calendar keeps me continually training as I compete with myself to do better than I did at the last event.  If you want to see what is happening in your town, head to Active.com and just see what type of events are available by typing in your city and state.  I live in a rural area but there are events in our little town along with many events within an hour or less of where my house is.
Right now I am training for my second triathlon that will be in August in Savannah. You can see below that today was swimming day and the harness my hubby made for me out of bungee cords worked amazing!  But guess what?  I need to swim more to increase my endurance because this workout today kicked my butt! I am swimmer and used to be on the swim team when I was a kid but right now I'm lacking confidence in how I will perform in the swimming portion of the triathlon. What this will do is propel me to spend the same amount of time on swimming as I do on biking and running.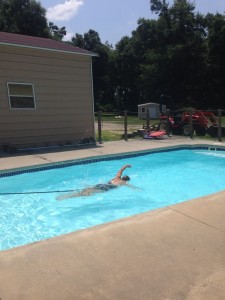 Next ask a friend to participate in the event with you.  Now you have someone that you have made a commitment to meet so many days per week.  When we know that someone is waiting for us, we will show up whether we want to or not. Chances are that the person you asked to train with you feels the same way you do some days but will show up because YOU will be waiting for them. Even if you find you do not enjoy participating in these events, the training will be enough to get your body craving the daily activity it needs as you have just created a new HEALTHY habit.  Every day, every way, get up and get moving.
To your health,
Denise

Denise Sanger is a high energy business owner with over 30 years experience in the marketing area.  She has transitioned her love of fitness and marketing into helping others succeed in getting fit and running their own businesses.   She founded How To Stay Fit Over 50 to provide hope and support to others by motivating them to take the first step in their fitness journey no matter what age. Email her at denisesanger@gmail.com or denisesanger@beachbodycoach.com