One of the best decisions I have ever made in my life was the decision to get fit and healthy.   Last week, I had major surgery and today, 4 days later as I write this, I am feeling AMAZING.   But this article is not about my surgery.  It is about how being healthy and fit has made not only the surgery, but the recovery go remarkably well.
I have always been active.  Some times more active than at other times but overall my exercise and activities have always stayed on track throughout the years.  My weight was not as easy to keep on track and there were many times I weighed more than what felt good for my body.  The numbers on the scale have never fazed me and most people could never imagine that I weighed what I did which is 100% attributable to my being active.    As a result of keeping my exercise on track over the years, my recovery from surgery has been very easy. Each day I increase my activity level a little more with the goal of keeping my training on track for my next half marathon in March. Coach Becky told me I would breeze through this surgery but to actually do it attests to how important it is to put your health and fitness at the top of your day-to-day priority list.  It is very easy to neglect our health if we let everything else we have to do every day take priority.  For me finding Coach Becky and working out with her and her amazing energy really kicked my fitness level up a 1000 times and I look forward every single day to that hour of Zumba or T25 with a great group of people.
On the other side of the coin, my roommate in the hospital that was 10 years younger than I am (I am 52) was not having as easy of a time as I did. She was brought in because half of her face was numb and the eye on that side of her face was enlarged.  In talking to her, I found out that she was having mini-strokes.  These mini-strokes were brought on by her diabetes.  As we were talking I asked her how she had been controlling her diabetes and she told me she was on medication.  I asked if she was doing anything with her nutrition and exercise and she told me no, she did not have the time.  Did you catch that?  She didn't have the time yet she was admitted to the hospital by her doctor to try to get the mini strokes under control that were directly caused by her diabetes.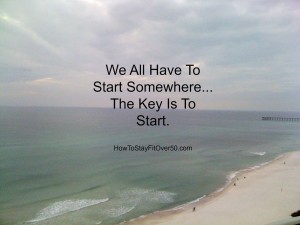 My viewpoint and my roommate's viewpoint on health are at total opposite ends of the spectrum and I hope that this article conveys the importance of making your health a priority in your life. You are that important and YOU must be the one that makes the changes in your life.  Below are a few tips to get you started but remember it is up to you to take the first step:
Clean out your kitchen.  By that I mean get rid of all the crap including processed foods, foods you have a hard time not eating, foods with artificial anything and sodas.  Replace with foods as close to the original source as possible.  For instance, choose apples over apple juice.
Drink water.  You should strive to drink 50% of your body weight in water every day to stay hydrated.  If you weigh 160 pounds, you should try to drink 80 ounces of water each day.  Carrying a refillable bottle or cup will help keep you on track.
Exercise at least 30 minutes.  If you have been inactive, start out by walking 10 minutes each day and every 3 days, increase that amount by a few minutes until you are at 30 minutes.
Most important?  To START.  Remember you are just as important as everyone and everything else – make your health a priority.  If you have trouble at anytime, let us know. Come into the gym if you're local and if you're not local, message us on Facebook.  We are here to help you push through.
To your health,
Denise