Dealing with "middle age" spread?  Weight gain since menopause or hysterectomy?  Yes. I was too until BURST! designed by Becky Skipper. When I tell you this program works, I am not kidding!  BURST  was created by a woman for women dealing with weight gain after menopause and hysterectomy.  It worked for me and it can work for you.  The videos below explains Coach Becky's BURST-TM in detail and how this program will help you get back in the shape you were before menopause and hysterectomy including working toward flat abs. Yes, it TRULY is possible.  Ready to get your body back?  Watch the videos below and find out how starting with Video 1.
The pictures below show you the change in Denise's body before hysterectomy and afterward – check out how much better Denise's abs look!   On the left is one year ago 12/2013 and the picture with the bike is this December 2014.  The change to Denise's midsection and abs is AMAZING!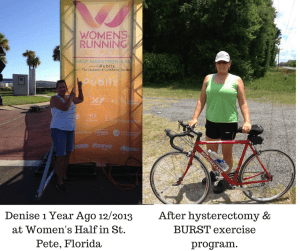 Denise Before & After BURST program.
Video 2 focuses on Abs and Upper Body.  Click the pic and watch now.  Then sign up to be first on the list to receive information. Sign up form right under video!

Video 3 focuses on Lower Body & Core and Denise's success with BURST Fitness!

If you are ready to make changes to get your body back in shape after menopause and hysterectomy MAKE SURE YOU ARE ON OUR LIST!  Program goes live 1/5/2015.