How many times have you heard the saying "It's not enough to talk the talk, you have to walk the walk."  I myself have heard it many, many times but never felt how powerful it was until yesterday.  Coach Becky along with a group of friends from Live Oak, Florida signed up for the Color Me Rad 5K in Tallahassee months ago.  I knew it was coming but before I thought about it much, the day was here! Honestly?  I so did not feel like driving to Tallahassee yesterday and if it wasn't that I paid for it and told Coach Becky what time I would be picking her up, I just might have backed out.  But, I put my running shorts, sneakers and a white t-shirt on and pushed myself out the door.  See I don't just talk the talk.  I walk the talk.  Just as many times as you have read my posts where I tell you that you have to push through, I have to push myself.
I get it.  I understand when you write to us and tell us you just can't seem to get motivated.  I have been in your shoes BUT I know that it is up to me to get off my butt, get dressed and get my workout in.  I also know that if I have fun with my exercise, I will stick with it.  I am not one that likes to work out by myself on a treadmill in an empty gym.  Some people love to work out that way. For me, it's boring and I find that I begin to dread going to the gym.  So from the time I was in my early 20's I have worked out with a group of people in classes, runs, playing softball and any other activity – as long as it was with a group.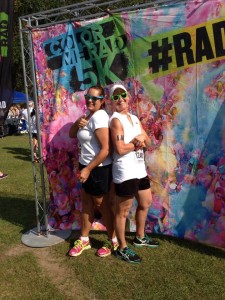 So starting right now, today, when you are fighting with yourself about whether you should exercise or not – the answer is a resounding YES.  Get off your butt and start trying different things.  If you used to love lifting weights, find a gym and possibly sign on with a personal trainer for a few weeks and work toward competing in your first event.  Like to walk?  Sign up for your first 5K.  Enjoy group classes?  My favorites now are Zumba and HITT.  We have a very simple gym in town but our classes our PACKED and we are one big family that pushes and motivates each other.
Remember – it takes about 2 weeks for a new thing to become habit.  You may have to push yourself to go to the gym or class for the first 2 weeks, but then you will quickly find that your body CRAVES the exercise and your mind enjoys the camaraderie of the many friends you will make.  Get up and walk the talk – you CAN do this.
Blessings,
Denise

Denise Sanger is a high energy business owner with over 30 years experience in the marketing area.  She has transitioned her love of fitness and marketing into helping others succeed in their own businesses.   She founded How To Stay Fit Over 50 to provide hope and support to others by motivating them to take the first step in their fitness journey no matter what age.  Email her at denisesanger@gmail.com or denisesanger@beachbodycoach.com