How do you measure food portions?  Do you actually weigh or measure or do you "eyeball" it and figure it's close enough.  I have been "eyeballing" my food portions for the past few months since I had surgery.  Even though I had gotten back to my normal workout routine, my weight seemed to have settled about 10 pounds heavier than what I had been before surgery.  Since I had a hysterectomy, I was thinking that my weight gain must have been due to the surgery as many women that I spoke with had gained some weight.  Besides I felt fantastic so wasn't really worried about a few pounds.
Then the 21 Day Fix program was released and I started it two weeks ago.  This plan is 30/40/30 which is 30% protein, 40% carbs and 30% fat for each snack/meal and includes containers for each food group so that you know your portions are correct.  Guess what I found out?  My "eyeball" portions?  Way off.   My weight gain was not a result of my surgery – it is a result of my eating too much.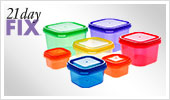 You may be familiar with the Zone Diet which is also 30/40/30.  This ratio is very balanced to not only lose weight but help you maintain that weight loss.  I have always watched my carbs so adopting this type of eating plan was not very difficult for me once I got my portions under control.  As of today, I have lost 5 of the 10 pounds I gained and it has been pretty painless.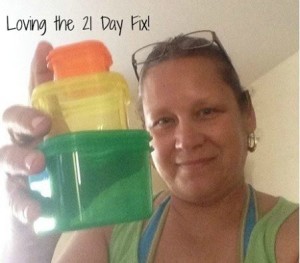 I also started recording what I was eating along with my exercise to get an overall view of where I was.  Exercise has never been an issue with me because my body craves it so I found that I was okay in that area.  What was off in addition to my portion sizes is that I had unknowingly went back to not eating enough.  I get so wrapped up with what I am doing during the day that I can easily skip meals because I am not aware of what time it is.  So that I can get this part of the equation back on track, I started setting an alarm on my phone for every 3 hours to make sure I was eating my meals along with my snacks.  Many do not believe this but you do have to eat to lose weight.  When you do not eat enough you are not providing your body with the fuel it needs to perform at it's best.
If you too are wondering what is going on? Why can't I lose weight?  Start with portion size along with journaling.  I use My Fitness Pal which is a great app that you can use on your phone, tablet or computer so it is easy to keep track of what you are doing during the day.
Finally, commit to the process.  You will not change what you have been doing overnight – give yourself at least 2 to 3 weeks to get your diet and exercise back on track.  Believe in yourself and your healthy body will thank you.
To your health,
Denise

Denise Sanger is a high energy business owner with over 30 years experience in the marketing area.  She has transitioned her love of fitness and marketing into helping others succeed in getting fit and running their own businesses.   She founded How To Stay Fit Over 50 to provide hope and support to others by motivating them to take the first step in their fitness journey no matter what age. Email her at denisesanger@gmail.com or denisesanger@beachbodycoach.com