I think the quote "If you are tired of starting over, don't quit." is one of my favorite all time fitness quotes.  Think about it.  We do so well for a period of time staying on track with our nutrition and exercise then often just stop.  Why?  One of the reasons we most often stop is life – plain and simple.  We are all extremely busy and taking care of ourselves many times takes a back seat to taking care of everyone and everything else.
The thing to remember is that if we are not healthy, we cannot give 100% to the important people and things in our lives.  I've learned this the hard way many times over the years and FINALLY got it right and made the lifestyle changes that needed to be made.  No longer do I go from taking care of myself to stopping and putting on 40 pounds.  Then the cycle would start again with watching my diet and exercising to stopping and putting the weight back on.  It truly becomes a vicious cycle.
Making the time to get your daily exercise in is critical.  Finding the time to eat healthy meals is just as critical.  When my girls were younger, I went from exercising daily when we lived in Cleveland to not exercising at all after we moved to Miami.  You would think living in a tropical environment would keep one motivated since you are basically able to be outside almost every day of the year. When we moved though, I put my focus on getting everyone settled and finding a job.  After again putting a significant amount of weight on and one day my youngest saying to me "Mom, aren't you going to the gym? You're crabby."  I realized that my thinking was off base.  I wasn't do anyone any favors by letting myself become unhealthy.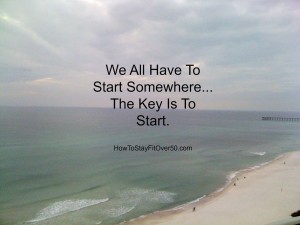 I'm not saying you must be in the gym 2 hours each day, 7 days a week.  What I am saying is that you must make yourself as much of a priority as you make everyone and everything else in your life.  Until you make that commitment to yourself, you run the risk of having to "start over."   You deserve to be healthy and fit.  You CAN do this!
Blessings,
Denise

Denise Sanger is a high energy business owner with over 30 years experience in the marketing area.  She has transitioned her love of fitness and marketing into helping others succeed in their own businesses.   She founded How To Stay Fit Over 50 to provide hope and support to others by motivating them to take the first step in their fitness journey no matter what age.  Email her at denisesanger@gmail.com or denisesanger@beachbodycoach.com