Happy Hump Day AND April Fool's Day!  Because of my love of all things fitness, my wholesale/manufacturing business will be adding Fitness Gear to our product line for 2016. I'm so excited!!!  As part of the prep, we are reviewing and testing items to be added.  They have to make the cut with me then my friends before being added to the line. And that's where YOU come in!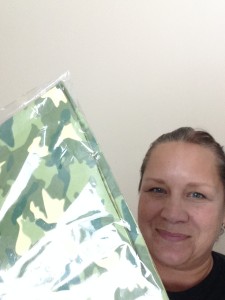 One of my favorite products is a cooling towel that I take the gym with me.  We've had CHILLZ Towels but are now looking at a new manufacturer and so far I'm loving the new product and ready? It's camo so not only is it perfect for the gym but for any outdoor activity where you'll be sweating.  Below is the pic. Remember it's a sample so it won't be in retail packaging but it is in a polybag.To enter, simply fill out your name and email below and we will randomly pull a winner and post to Facebook.  Then after you've used the towel, let us know what you think and if it's a winner OR a loser!
ENTER YOUR NAME & EMAIL BELOW TO BE ADDED TO THIS WEEK'S GIVEAWAY!