As I've been finishing up my Ebook (watch for the details next week) that provides info on what has kept me on track for several years with my fitness, it dawned on me that probably the number 1 thing that keeps me on track is my fitness network.  Today is a perfect example of why this network is so important to me.  I don't feel like going to the gym.  I'm tired.  I've been on the phone all day and I would just like to eat dinner and vegetate in front of the TV.  But you know what?  I won't do that.  Because my friend Sophia sent me a text message that she would be meeting me at 5:30.  I just got dressed, put my sneakers on and will be heading out the door shortly for Zumba.  That is all it took.
When you have people you enjoy working out with, it keeps you motivated because you know they are waiting for you at the gym or park. We have a great crew that does Zumba and our T25 workouts at the gym.  We look forward to seeing each other every day and when one of us may not be coming, we tell everyone we will not be there so no one is waiting on us.  A fitness family so to speak.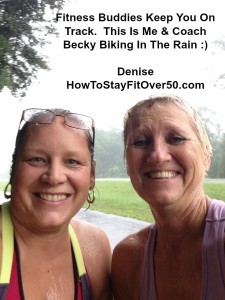 How do you find a fitness partner or group? For me, it was by trying several gyms in the area and finally walking into one where I connected with the owner, Becky, and found myself a kindred spirit in Sophia.   I have to tell you it was not easy finding the place where I just "fit".  I think I went through 4 different gyms in the area.  I was used to living in the city and moving to the country was a whole other ball of wax so to speak.  But I persisted and am very happy with my fitness family.
To find your fitness family or at least a fitness buddy that will keep you accountable, start with what you like to do.  Do you like to walk or run?  Start signing up for 5K's in your local town.  You will see many of the same faces after every event and will form a natural connection.  If that's not your cup of tea, try the local gym or a new class at the gym that you hadn't thought to try.  My class was Zumba and here it is already several years later and I am still doing Zumba and have just become a licensed instructor teaching Zumba Gold to the seniors in our town of Live Oak, Florida.  The key is that you have to keep looking until you find the right fit for you.  Once you make that connection, it becomes easy to keep your exercise on track.
Post where you are on our Facebook community to see if you can find someone to work out with.  Questions?  Reach out to me here at our Facebook page  – How To Get Fit Over 50
Blessings,
Denise