Grateful.  Happy.  Thankful.  Appreciative.  Excited. How many of these words describe how you feel right now?  For me, all of them.  I am thankful for where I am right now, grateful for where I have been and excited for the journey that lies ahead.  I didn't always feel this way which is why I wanted to take a moment to write this post.  It's important for you to be thankful for where you are right now this moment.  Sometimes we get so wrapped up with thoughts and feelings about where we THINK we should be that we do not take the time to celebrate where we are.
Getting to where you are right now was not an easy journey was it?  I know for me it definitely wasn't.  And the ups and downs in your journey defines you.  For me that means strong, resilient, appreciative, adaptable, and most of all happy.  Yes, I am  very happy.  Much of my happiness is a direct result of my growth both physically and emotionally.  I will be married 30 years this coming May, have two beautiful daughters, a family I adore and the best friends a girl can have.  I own two businesses that I am very passionate about and enjoy traveling.  My favorite place to spend a weekend is the beach and I make the time to get to the beach several times a year to regenerate.
Was my life always like this?  Absolutely not.  My name would have been Denise 'Stressed" Sanger many  years.  There were many lean years where I was not sure how the mortgage would be paid.  My husband was seriously injured on the job and out of work for more than a year.  That left just my income and we were used to functioning as a 2 income household.  Today he still has some issues but for the most part he is healthy and we survived and came out stronger for it.
What do I think is the most valuable lesson I learned along the way?  To be thankful every single day for what you have even when you do not feel particularly thankful.   My husband was seriously injured but I was thankful he pulled through the surgery and was able to become well again.  We worked through our financial issues by cutting back on where we were spending.  A prime example?  Fast food three to four times per week.  Once we cut this out, not only was that a big chunk of money we could put towards our bills, our family became healthier because we were cooking more of our meals.  At that time, I was thankful I could pay my mortgage and utility bills on time.  I was thankful for two beautiful healthy daughters that never complained when they were told "no."
The key is when you are feeling particularly vulnerable and lost, you must stop.  Just stop whatever it is you are doing.   Take a moment to be alone.  Think of just one thing you are thankful for at that particular moment.  It could be something as simple as a nice cup of coffee.  It doesn't really matter what it is – be thankful that you have it.  That one little moment that you are thankful for something will lead you to think about other things you are thankful for and before you know it, your whole outlook will change.  It did for me and made me happy and grateful for everything in my life today.  And right now, I'm thankful for my Zumba class and fitness family.  Putting my shoes on to head out the door with a smile on my face – don't you love my bright sneakers?   What are you grateful for right now this moment?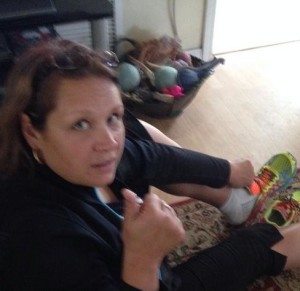 To your health,
Denise

Denise Sanger is a high energy business owner with over 30 years experience in the marketing area.  She has transitioned her love of fitness and marketing into helping others succeed in their own journey to health and businesses.   She founded How To Stay Fit Over 50 to provide hope and support to others by motivating them to take the first step in their fitness journey no matter what age.  Email her at denisesanger@gmail.com or denisesanger@beachbodycoach.com