That's right.  If you're struggling, know that I am too.  I have been having a tough time getting back on track with my eating since the triathlon but I have made progress and you can too.  When you have a clear goal in your mind, it is easier to stay on track – at least it is for me.  When I started this site, it was to document my journey to the triathlon.  You were all with me on this journey and you knew not only my triumphs but also my difficulties.  I had a support system that many athletes would have been lucky to have and I was very proud to tell you about my journey.
I worked my tail off training and eating clean and I completed my first triathlon in less time than I had thought it would take.  This was huge for me and one of the biggest accomplishments of my life.  So what went wrong?  Well nothing went "wrong" really.  It was more that I relaxed too much.  My exercise is on track and will remain on track because no matter where I am in my life, exercise is a priority.  Where I am struggling is eating clean.
It is said that it takes 21 days to create a new habit but it seems to take only take a few days to create a BAD one!  When I quit smoking many years ago, I replaced smoking in the evening with eating.  Smoking was the way I would unwind at the end of the day and when I quit smoking I replaced it with eating to relax and would often do it in front of the TV.   I have always exercised no matter how "fluffy" I may be but when you are not eating clean, the weight can still sneak back up on you.  Unfortunately, this bad habit of picking in the evening sneaked up on me and I've been snacking and it seems to be tied to it getting darker earlier in the day.  Last night, it was fairly dark by 7:30 at night as I was coming back from the grocery store.  By the time I put the groceries away and jumped in the shower, it was night time dark outside. Who wants to go back out and do anything when it's dark?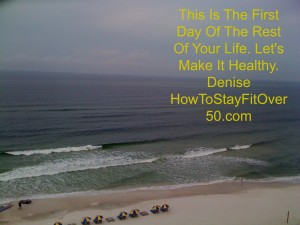 Aha – there you have it.  I caught what is causing me to go off track.  It's the fact that I'm in the house earlier than I have been and sitting in front of the TV. TV makes me want to snack.   Always has been a direct correlation in my mind TV and snacking.  So now that I have figured out what happened that allowed me to fall back into this bad habit, I can fix it.
So how will I get rid of this bad habit? By replacing it with good habits.  Instead of sitting in front of the TV, I will sit at the table and eat my dinner without the distraction of the television.  When I have finished eating, I will take the time to clean up the kitchen and the dishes then head outside to groom the horses or play with the dogs.  I can do these things even if it is dark outside because I have a light pole in the back half of the yard so I can see.  The key is that I have to shake up and replace the bad habit by doing something else and eventually the bad habit will be gone.
If  you have been struggling lately, know that you can fix it and get back on track.  I am updating my journal daily and weighing myself every week or two to see where I am and I've started ticking those pounds back off.  I'm back on track and you can get back on track too.  Let me know how it' s going because I'm here for you.  Together we CAN do this!
Blessings,
Denise

Denise Sanger is a high energy business owner with over 30 years experience in the marketing area.  She has transitioned her love of fitness and marketing into helping others succeed in their own businesses.   She founded How To Stay Fit Over 50 to provide hope and support to others by motivating them to take the first step in their fitness journey no matter what age.  Email her at denisesanger@gmail.com or denisesanger@beachbodycoach.com