Have a vacation on the horizon?  Good for you! There is nothing as rejuvenating as taking a vacation away from everyday life.  I will be leaving for a healthy mini-vacation this Friday as I travel to Savannah, Georgia for my second triathlon which will be Saturday morning.  We will pick up our packets Friday afternoon, eat a clean dinner then call it an early night.  After the triathlon though we will be spending the rest of the weekend sight-seeing and enjoying the local cuisine and beverages.  Will I deprive myself? Absolutely not and the reason is because of the 80/20 rule that I follow.  80% of the time no matter where I am home or away, I eat clean.  This allows me a little wiggle room with the 20% remaining to try new things. Just because I'm on vacation doesn't mean my diet is on vacation too – I prefer to keep on track because I feel so much better physically.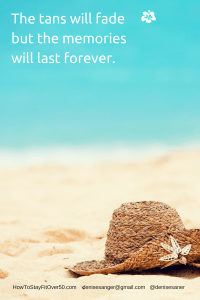 So that you don't use your vacation as an excuse, here are a few tips to help you keep on track.  They may sound simple but they absolutely work:
Try to eat in one meal per day.  For example, I will be packing my breakfast which is always Shakeology chocolate shake. This one little tip to eat in my hotel room helps me make much wiser choices at the hotel buffet with hard-boiled egg and fruit.
Pack healthy snacks in your carry on bag or purse such as nuts, fruit, or protein bars.  Having something available will stop you from venturing toward the convenience store or gift shop.
Water. Water. Water.  It is never more important than when you are traveling to be sure you have your refillable water bottle with you to stay hydrated when out and about.
Eating dinner at a restaurant?  Try to stay away from buffets and ask the waiter if you can order from the lunch menu which is usually a smaller portion.  If that is not an option, split your entree with someone at the table or ask that half be packed to enjoy the next day if you have a refrigerator where you are staying.
Ask that your protein be grilled versus fried.  Also push that bread basket away or even better ask that it be removed from the table.  It's too easy to over indulge when it's right in front of you.
Order fruits and vegetables every chance you have.  Order a salad before entree.  Fruit for dessert.
Want to try the house dessert?  Absolutely order it, but share it with someone at your table.
Yes you will indulge more than normal.  After all this is your vacation!  Keep the weight off by making sure you squeeze in exercise every day.  If you are out and about sight seeing, walk as much as possible.  Another option is to book a hotel with a fitness center or swimming pool.
Remember vacations are for resting and unwinding.  Don't stress over every little calorie.  Enjoy these moments that are you life.
To your health,
Denise

Denise Sanger is a high energy business owner with over 30 years experience in the marketing area.  She has transitioned her love of fitness and marketing into helping others succeed in getting fit and running their own businesses.   She founded How To Stay Fit Over 50 to provide hope and support to others by motivating them to take the first step in their fitness journey no matter what age. Email her at denisesanger@gmail.com or denisesanger@beachbodycoach.com