Ah, the weekend.  With owning 3 businesses, sometimes I just can't wait for the weekend to relax.  To make sure I don't slack off completely with my eating clean and exercise routine, I've created some sneaky ways to make sure I get my exercise in especially on weekends that we might not have Zumba class.  Here's my list.  Hope it inspires you to "sneak" some exercise in your weekend too.   Enjoy!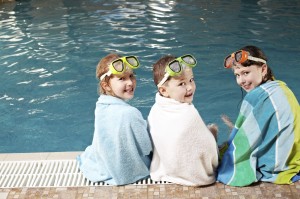 Play with the kids or the grandkids.  Have you played with kids lately? Whew!  I forget because my daughters are in their early 20's and don't have kids yet but when I get to play with my friend's kids or grandkids, it's amazing how active they are!  Sneak exercise in by visiting someone with little ones and enjoy their smiles.
Head to the pool or beach and swim.  Just walking into the surf is a workout to keep your balance.  Remember, shoulders back and down, core engaged.  When you're finished, head up the beach and look for sea shells.  Tighten that butt as you bend and pick up the shells.
Canoeing or kayaking are great ways to get an upper body workout while enjoying the passing scenery.
Take your bike out of the garage, dust it off and hop on.  Head to a nearby park with trails or look for a Rails to Trails path.  We have one nearby and I'm on it every weekend.
Head toward the park.  Remember when we were kids and the great times we had with our families on picnics?  Recreate those fun times with your kids and grandkids.  Bring a bat/ball, horse shoes, bocce ball, water balloon toss and more and play the day away.
Take a mini vacation and go camping for the weekend.  Just being out in nature is enough to get you moving.  Think hiking, fishing, and just having a great time with friends and family.
Before you meet friends for lunch or dinner, tell them you want to take a walk.  Choose a location near where you plan to eat then squeeze in a 15 – 20 minute walk.  Chatting with a friend while walking is a great way to sneak in exercise.
Do what I do and sign up for a 5K to walk or run then recruit friends.  There is nothing more enjoyable than meeting friends to raise awareness of a great cause at an event.
Running errands?  See how fast you can get them done!  Speed walk between stops and wipe out all those errands quickly.
Laugh.  There is nothing better for your health and fitness than a good old belly laugh.  Choose one of the 9 ideas above, grab friends and family and have a great time no matter what you're doing.
Most importantly?  Enjoy yourself.  There is no reason exercise can't be fun whether you "sneak" it in or not.  Have a great weekend!
To your health,
Denise