Have you ever had a week so crazy that it's Friday before you know it?  That is the exact type of week I just had and I want to apologize for the delay in this article as it should have been to you early this morning.  Unexpected things happen in life that we all have to work through which led to the title of today's post "When Life Gets In The Way."
As many of you know,  I have my fitness business but my husband and I also own a swimming pool toy distribution business and we are in the beginning of our season.  It's a wonderful time of year when the phone rings off the hook and we are blessed with many orders and emails through our wholesale and retail businesses.  The days were blurring one into the other when my husband calls me from outside – "Denise, come here and see this."  I thought "What now?" and the what now turned into a puppy that somehow made it's way into our warehouse.  We still do not know how it came to be there but suspect that someone sneaked it into our yard when we were in the office because we are known as the "dog" house and this is not the first time we have had a dog show up in the yard.  We currently have 4 rescue dogs, 3 rescue horses, and 1 cat and until recently had 6 dogs but our old guy crossed the rainbow bridge at 17 and we were able to place another one with a good family which brought us to 4.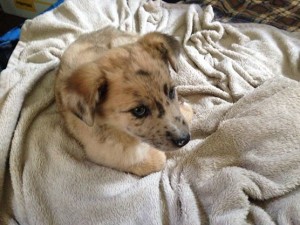 This little girl puppy was very skinny but just adorable.  Unfortunately, our male dalmation, Pongo, was trying to eat her for a snack so we were keeping the dogs separate.  Open one door, close another door. Make some phone calls, answer emails.   One dog in, another dog out. Before I knew it, it was 5:00 Wednesday afternoon and I was a wee bit stressed with the dog balancing act while trying to serve our customers so it was definitely time to go to the gym.
Off to town I went for Coach Becky's class and 40 minutes later I walked out of the gym like a new woman.  My stress level was down and I felt relaxed for the first time that day.  Back home to find out that a good friend of mine said she'd love to take the puppy so it was just a matter of keeping the dogs separate for one more night.  Next morning after clearing messages and emails, off I went to drop the puppy off and visit for a few minutes then back to the office to touch base first with my fitness clients then customers of our wholesale pool toy business.  Before I knew it, it was 5:00 again.  Not only did Wednesday fly by but so did Thursday.  Feeling stressed again from juggling too many balls,  I put on my sneakers and off to Zumba I went followed by pilates.  Again by the end of the Zumba class, I could feel the stress leave my body and after pilates, found that I was back to my relaxed and happy self.
Many folks deal with much more than I do in a day because I am truly blessed to be able to work from home.   No matter what happens during my day including business ups and downs or life's many twists and turns, I make sure that my butt is at the gym in the evening.  I would surely be a basket case without exercise as it is the best stress reliever in the world.  Next time you're feeling stressed or out of sorts, try my remedy – exercise.  Take a walk.   Hit the gym.  Pull out the bike.  Your body AND mind will thank you.
To your health,
Denise

Denise Sanger is a high energy business owner with over 30 years experience in the marketing area.  She has transitioned her love of fitness and marketing into helping others succeed in getting fit and running their own businesses.   She founded How To Stay Fit Over 50 to provide hope and support to others by motivating them to take the first step in their fitness journey no matter what age. Email her at denisesanger@gmail.com or denisesanger@beachbodycoach.com