Happy Wednesday!  Today we bring you Jane Pastva's fitness story.  Enjoy!
I am a 52 year old female….. I have always struggled with my weight from the time I was in my mid twenties. I had numerous knee,shoulder, elbow, feet, and abdominal surgeries over a 10  year period. I finally started working out regularly at our local fitness gym.
In 2007 my husband was diagnosed with Hodgkins and non-Hodgkins Lymphoma… While he went through 3 years of extensive chemo, I did my best to keep my weight down. I went to weight watchers and stayed on track until he had to have a bone marrow transplant in dec. 2010. I did not leave his side. It was literally 9 months that I did what ever he did, which was pretty much nothing… He sat, I sat… He ate, I ate…
After he recovered from the transplant, I was again 186# and not in great shape. I made up my mind that I was going to get fit and stay fit.
I stared at weight watchers and by Nov. 2012, I had made my goal of 145#. I frequented the gym 5 days a week, walking, biking, and taking zumba classes during the summer. I felt empowered. At 50 I was in the best physical and mental shape I had ever been in. I started lifting weights and taking on a whole new approach to my techniques…. and my whole gym workout…I was 140# and had very little body fat… THEN, I was diagnosed with Stage II Cervical cancer…. I made up my mind I was going to beat it and I was not going to let it get me down. I have maintained a fairly regular schedule at the gym. I have hired a trainer and he has been pushing me to my limits… I have gotten through 6 months of chemo and NEVER gotten sick….It is 90% mind over matter… I am now 52 years old, and still maintaining my level of activity… I have no intention of ever going back to that fat and unhealthy person…
Jane Pastva
Check out Jane's before and after pictures – Way To Go Jane!!!
Jane Before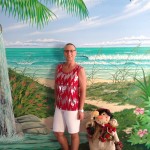 Jane Now
Denise

Denise Sanger is a high energy business owner with over 30 years experience in the marketing area.  She has transitioned her love of fitness and marketing into helping others succeed in getting fit and running their own businesses.   She founded How To Stay Fit Over 50 to provide hope and support to others by motivating them to take the first step in their fitness journey no matter what age.  Email her at denisesanger@gmail.com or denisesanger@beachbodycoach.com