Struggling with your fitness, diet or business?  What would you think if I told you that you could overcome any obstacle that is in the way of getting to your goals of being fit and healthy just by thinking differently?  This may not be what you are used to hearing or being told but the truth of the matter is you do not need quick fixes or secret solutions to move forward.  What you do need to understand is that both the reason and the solution for your struggles is within your mind and you can overcome any obstacle in your path.
Working with the many clients that I have over the years in both my fitness business and my marketing business,  it is amazing that just a few simple changes to your daily routine will help you to see the world just a little bit differently.    The simple changes are outlined below. Are you ready?
Take stock of where you currently are in meeting your goal.  Usually when we don't meet our goals, it means we went off track somewhere.  It is easy to stay on track by keeping your focus on your goal EVERY SINGLE DAY.  As soon as you take the focus off your goal, you will go off track.  The easiest way to stay on track is to take a moment every evening and think about how well you did moving forward with your goal.  If your goal is to lose weight, how did you do with your eating through out the day?  Did you eat enough fruits and vegetables or did you eat a bag of chips?  If you are trying to incorporate exercise into your day, did you open the DVD box and put it into the DVD player? Did you take a walk with your family or dog? Or did you come home from work and sit on the couch?  If you are working on building a business, did you focus on what brings in the money or did you do busy work all day? Just taking a moment to think about your day before you go to bed can help you stay on track the next day.
Pay attention to what you say.  The quickest way to get off track is to make excuse after excuse about why you are not meeting your goals.  Do these sound familiar?  I didn't have enough time to pack a salad for lunch today so I went to McDonalds and got a burger?  I didn't have time to exercise today because I was tired when I got home from work.   I didn't contact my top 10 customers because I had to answer emails.  The most common excuses are 1 – I'm too tired.  2- Before I can start, I need to……  3 – I've done enough already today.
Keep track of what you are doing during the day to stay on track. Again if you want to lose weight, keeping a journal of what you are eating during the day will keep you focused on what you are putting in your mouth. This focus will prevent you from eating things you shouldn't have because you know you will be writing it down in your journal.  Ditto for exercise.  If your goal is to exercise every day, simply keeping track of how many times you exercised during the week by writing on the calendar will keep this goal front and center.  If your goal is to increase sales for your business, keep your focus not only on new business but also on your current clients.   The easiest sale is to an existing customer because they already have a relationship with you.  Seeing  your progress throughout the week will motivate you to continue in the right direction for any goal you set.
Just paying attention to these simple points each and every day will be enough to keep you on track and moving forward.  After about 2 weeks, these actions will become habit and you will find that you are keeping on track easily every day.   Make these 3 changes today and I promise you'll move forward with your goals.
We CAN do it together.
Denise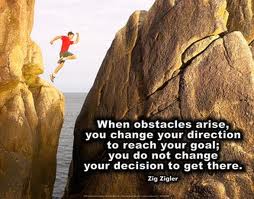 Denise Sanger is a high energy business owner with over 30 years experience in the marketing area.  She has transitioned her love of fitness and marketing into helping others succeed in their own businesses.   She founded How To Stay Fit Over 50 with her friend  Coach Becky Skipper and together they are able to provide hope and support to others by motivating them to take the first step in their fitness journey no matter what age.