One of the hardest things for many people, especially women, is to make the time to get healthy.  We are so very busy running from one thing to the next that often our health takes a back seat to everything else we need to squeeze in our days.  This essay is to tell you it's okay to take some time for yourself.  I'm going to tell you why from my personal experience.
Before the days of being self-employed, I was like everyone else.  Dropping kids off at the sitter or school.  Driving like a lunatic to get to work on time.  Running errands on lunch and shoving fast food down my throat before heading back to work.  After work, over to the sitters to pick the kids up, through the drive through to get them something to eat quickly before heading to whatever event was on that day's schedule.  Rush home, get homework complete, kids bathed then into bed.  Who wants to exercise after a day like that?  I most certainly did not and I know many people who have days like this.  It's no wonder we're exhausted.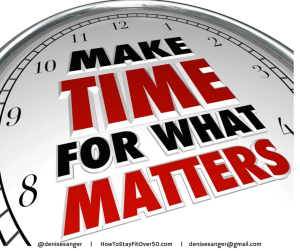 Fast forward a few years and my husband and I are transferred to Miami.  No family support system – just us and our daughters. My husband was injured on the job and out of work for over a year which made things even crazier.  One good thing did happen during that time.  He was home and able to help getting the girls back and forth to school which allowed me to stop at the gym on the way  home from work.   The difference that made in my stress level was astounding.  And what brought it to my attention was one day when I did not stop at the gym because I had to rush home to grab the girls for Girl Scouts that evening.  My youngest daughter, Jess, said "mom don't you have to go to the gym? You're grumpy."  Light bulb moment if ever there was one.
Yes times were tough for a few years but we survived and I learned a very valuable lesson – to put my health at the top of my to do list not only for me but my family.  My husband and I went on to launch one of our businesses that we still have today and that allowed us to move to the wonderful place we now call home in North Florida. This allowed us to move out of the crazy rat race and daily commuting times of an hour.  I have never looked back and have launched several other businesses including my fitness business.  I will never give my time away again and I make sure to get my exercise in every day.
One thing has not changed though. If I do not go to the gym and work out with Coach Becky for whatever reason, I still get grumpy.  You can bet my husband's words the next day are "Aren't you going to see Becky?" LOL – yes I still get very grumpy and stressed if I don't make the time for exercise.  If any of this hits a nerve for you, make the time in your day to not only exercise but to eat healthy.   It will become habit for you and you might hear those same words I did from my daughter if you miss a workout.  We only have one life.  Make sure you're healthy enough to live the way you want to live.
To your health,
Denise

Denise Sanger is a high energy business owner with over 30 years experience in the marketing area.  She has transitioned her love of fitness and marketing into helping others succeed in getting fit and running their own businesses.   She founded How To Stay Fit Over 50 to provide hope and support to others by motivating them to take the first step in their fitness journey no matter what age. Email her at denisesanger@gmail.com.