Today we are pleased to bring you Debi Lantzer's fitness story.  Her story is a testament to always believing in yourself.  Enjoy. Denise
I saw your "shout out" on facebook and I thought I'd write you and share a little about me – on 8/28/12 I was in a near-fatal car accident.  Before that I was an active half marathon runner, former president of the local running club and drummer in the praise team at my church.  As a result of my injuries which consisted of an open book pelvic fracture, crushed knee, fractured knee, fractured sacrum, fractured tailbone, fractured nose, and fractured eye orbit.   I was told I would never run again and wouldn't be able to walk until March of 2013.  Despite that, I walked a full 5K in February, of 2013, I ran/walked another 5k in September, and ran/walked a half marathon on 10/27/13 and two others in December of 2013.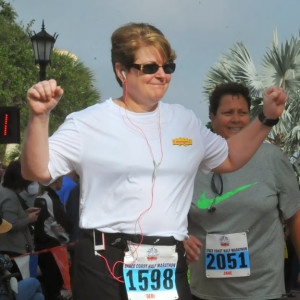 I am registered for a minimum 14 half marathons in 2014 both local and nationwide, along with several other 5ks and 10ks.  I've completed six so far, and while I'm not fast (YET), I am hoping to keep pushing forward and shave time.    I'm also back to rocking the drums at church:)
If you go to my blog site, under "my story" or "my faith" the full story is there along with pictures to give you a more detailed history of events.
Debi Lantzer – Blog:  http://14-in-2014.com/
Do you have a story to tell?  Please contact me at denisesanger@gmail.com.  You never know who you may help on their fitness journey.
To your health,
Denise

Denise Sanger is a high energy business owner with over 30 years experience in the marketing area.  She has transitioned her love of fitness and marketing into helping others succeed in getting fit and running their own businesses.   She founded How To Stay Fit Over 50 to provide hope and support to others by motivating them to take the first step in their fitness journey no matter what age. Email her at denisesanger@gmail.com or denisesanger@beachbodycoach.com