Many of you know my story but there are many new folks in our community that do not know my journey so I thought I'd take the time to write about it again.  Right now my focus is on helping as many people as possible become the fit and healthy person they were designed to be.  I know first hand how hard it can be and there are many days where I can still struggle with eating properly.  Yes, I am human and it doesn't come as easy for me as it does for other folks so if this is you – I can so relate.
My journey started many years back.  I have always been active so exercise was never an issue but weight loss was.  Eating properly has always been an issue and I used to be the queen of yo-yo dieting.  How many of you can relate?  Gained a few pounds?  Let's live on coffee and Diet Pepsi for the week and we'll be good by the weekend.  How about fen-phen?  B12 shots?  Yes I've tried them all but was never successful at keeping the weight off until a few years ago.
So what changed?  My mentality changed.  I went from thinking crash diet to thinking long-term healthy lifestyle and I have Coach Becky to thank for that as she has and continues to be an inspiration and motivator in my life.  When I started this site 3+ years or so ago, I had just watched Coach Becky complete her 2nd triathlon in Pensacola, Florida.  It inspired me and I told her I want to do that.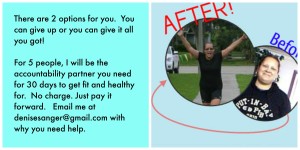 The training started right away and I was ecstatic when I completed my first 5K.  We had a group of us that would run during the week and meet to run the 5K's.  Our fitness family continued to grow and I was accountable not only to Coach Becky but to many others who were training for the local events with us.  When someone is waiting for you, you will show up.  I never missed a Zumba class, strength training class or run event.  NEVER.   Being accountable pushed me to a whole new fitness level.
I have gone on to complete three half marathons and yes I did complete my first triathlon July 2013 and am now training for my 2nd triathlon.   We now have a few others training with us for their first triathlon and I will be there for them as Coach Becky was for me – paying it forward.
That brings me to the reason for today's post.  If you need an accountability partner, I am there for you.  I can't be an accountability partner for 100 people but I can do it for 10 at a time.  All I ask is that you pay it forward to another when you are on track.  It may be you just need a reminder to drink your water or the push to get out there and get your walk in.  Whatever it is you need, let me know and I will do that for you.  Simple message me on Facebook or email me at denisesanger@gmail.com
Remember the one thing I ask is that you pay it forward.  If you can commit to 30 days and promise to help another in the future, let's do this.  Yes you CAN!
To your health,
Denise