Are you ready to lose weight once and for all?  The key to permanent weight loss is to make lifestyle changes.   Even though I have always been active, it wasn't until I made these changes that I successfully kept the weight off for many years.   If you are truly ready, let's get started.  If you can't make the commitment today, print these 5 tips out for when you are ready because the fact of the matter is that you must be 100% committed to making the changes or you won't be successful and I want you to succeed.  If the time isn't right, hold off until you can focus 100% on this process.
Organize and schedule.  Sit down right now and schedule your exercise for the next week on your calendar.  If you have a calendar on your phone, that's even better because you always have your phone with you. Set an alarm so when it's time to exercise you have a reminder.
Ask a family member or friend to join you on your fitness journey.  If you can't find one locally, check with me and I'll work with you virtually.  It's proven that when you have someone waiting for you to check in you are more likely to stay on track because you are being held accountable.
Tell everyone you know about your goal to lose weight.  This is another way to keep you on track because when you tell people what you are going to do, you will stay on track because you don't want to disappoint them or have them think less of you for not completing your goals.
Organize your kitchen – get rid of everything processed or junk you can't resist.  Next sit down again and write your grocery list. Sticking to a grocery list makes life so much easier when you go to the grocery store.  Another tip?  Eat before you go.  If you go to the grocery store hungry, you will buy things you normally wouldn't.
Ask for help especially if you have kids or grand kids in the house.  Sit down and have a discussion with everyone and let them know what you are doing. It's also a great time to talk to kids about eating food that is good for them along with getting daily exercise.   But be careful how you have this discussion with the kids because you want to be a role model for living a healthy lifestyle.  Avoid terms like diet or weight loss.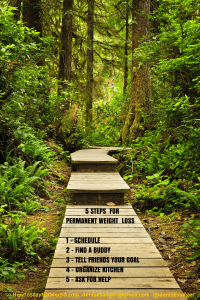 You are an adult.  Take control of your health and fitness once and for all.  No, it won't be easy but it will be worth it! To your health, Denise

Denise Sanger is a high energy business owner with over 30 years experience in the marketing area.  She has transitioned her love of fitness and marketing into helping others succeed in getting fit and running their own businesses.   She founded How To Stay Fit Over 50 to provide hope and support to others by motivating them to take the first step in their fitness journey no matter what age. Email her at denisesanger@gmail.com or denisesanger@beachbodycoach.com